Invoicing program
Opt for time-saving, error-free and transparent invoicing. Thanks to the user-friendly invoicing tool, compile your invoices in just a few clicks and save precious time.
Ready in 60 seconds
In just one click, you can consult your customers' data, prices and products thanks to the built-in CRM system. It allows you to compile invoices in less than 60 seconds, both in the office and on site.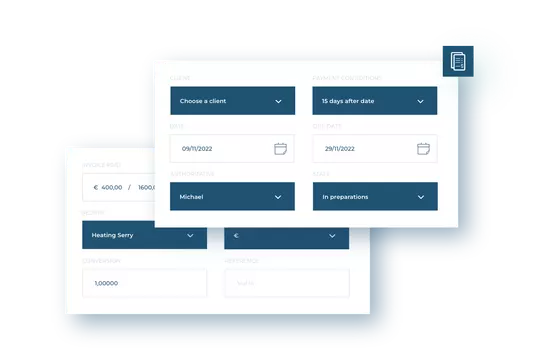 Orderly overview
Quickly obtain an overview of your invoicing and stay in control. Using a few parameters you can view the number of paid and outstanding invoices per customer or article, as well as their status, at any time. Afterwards, a single click allows you to send the appropriate reminder or demand to the right person.
Integrated templates
Thanks to the integrated templates, half the work is already done. You choose the starting point: based on a quotation, project or time registration. You can then add useful documents and certificates such as the 6% VAT certificate. The structured reference accompanying the payment is created automatically and afterwards, you can send all the required invoices to your accountant with a single click.
Error-free
Bye bye manual processing, hello automation. Thanks to the OCR function, you can read purchase invoices directly into the software, which automatically fills in the input fields. This drastically reduces the risk of manual errors and allows you to invest in what really matters.
Want easily manageable invoicing with infinite expansion possibilities?
You are just one click away from simplified invoicing. Talk to Laurens, Charlotte, Paul or another member of our customer team. They will be delighted to examine how our invoicing module can best help you.
Also interesting for your company
These extensive features make all the difference
Approval process
The approval flow allows several stakeholders to approve an incoming invoice before payment is made.
Order directly from your supplier
Useful for building your library of articles from your supplier's articles. It means the prices in Robaws are always up-to-date.
Digital work order
A work order is completed in just a few steps. Wappy offers a solution that is even easier than filling in a sheet of paper.
Subscriptions
In the subscriptions module, you can have invoices and orders generated automatically.
Delivery notes
A delivery note registers articles or equipment coming into your workshop. It is an efficient way of registering and verifying quantities and delivery dates.
E-mail templates
Create an e-mail template to quickly send an invoice or a reminder.